Call Today: 1-800-392-8882
PROBLEM... WHITE SPOTS / HIGH TDS
CAUSED BY HIGH TDS IN HOT WATER APPLICATIONS
If your water causes lots of White "Spots" or "Film" on your fixtures, glassware, shower doors and elsewhere, this may be caused by high levels of Total Dissolved Salts (TDS). TDS are not related to "hardness" but are instead salts that have dissolved in your water. There are many types of salt: sodium, potassium, chloride, boron etc. and collectively they are called TDS. Hot water tends to make salts come out of solution quickly & when water with high TDS evaporates, it leaves behind white "spots" or "film". If your water is Not Hard, the spots or film wipe off easily. If your water Is Hard, the spots and film tend to calcify and are hard to remove. TANKLESS Hot Water Heaters always make TDS come out of solution very very quickly which can cause severe scale formation and spotting if the TDS levels are high.
SOLUTION... HOT WATER PROTECTION SYSTEM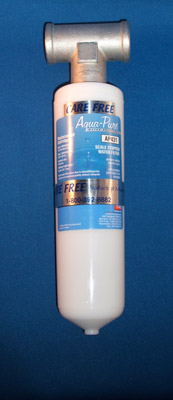 The Aqua~Pure Hot Water Protection System solves this problem in hot water applications. It installs in your cold water line just before the line tees off into your hot water heater. The cartridge contains a USDA & NSF approved pure food grade material & as the water is used, a tiny amount dissolves and puts a microscopic protective layer on the inside of pipes and metal parts which stops the salts from building up.
FEATURES AND BENEFITS
Maintains efficiency of hot water systems
Prevents Salt & Hard Water Spotting, also Scale Buildup & Pipe Corrosion
Prevent Scale formation caused by Tankless Hot Water Heaters
Unique Scale & Corrosion Preventer
Spot-Free Dishwashing
FDA & NSF approved~ Suitable for drinking, cooking & all food applications
Slow, Consistent Dissolve Rate
Simple Cartridge Replacement every 6 to12 months depending on water usage
Effective on All Types of Hot Water Systems
FREQUENTLLY ASKED QUESTIONS
WHAT DOES THE AQUA-PURE HOT WATER PROTECTION SYSTEM DO?
SAVES YOU MONEY ON PLUMBING REPAIRS & IMPROVES WATER QUALITY
INHIBITS SCALING CAUSED BY HGIH TDS & HARD WATER
INHIBITS SPOTTING & CORROSION OF PLUMBING CAUSED BY HIGH TDS
IS IT SAFE & WILL IT CHANGE WATERS TASTE OR ODOR?
YES IT IS SAFE-All ingredients are 100% USDA & NSF approved pure food grade materials & NO it will not change the water's taste or odor when used as recommended
WILL IT HARM A SEPTIC SYSTEM?
NO- it has no adverse effects on a septic system's performance
WHAT IF YOU DON'T CHANGE CARTRIDGES WHEN NEEDED?
The original water condition & problem will reappear & white spots and scale will build up again which you want to avoid.
EASY INSTALLATION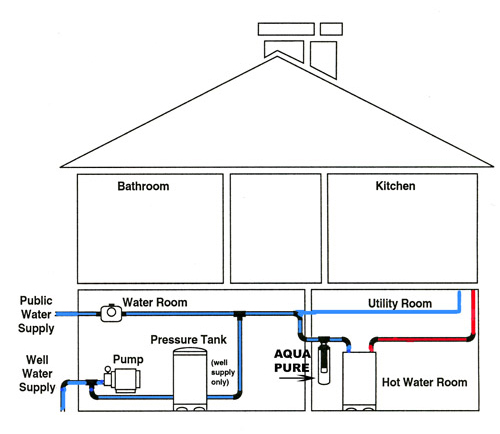 Your Hot Water Protection System easily Installs on the COLD water feed line immediately before entering the water heater or boiler.